Uxbridge driveway murder: Three arrested after shooting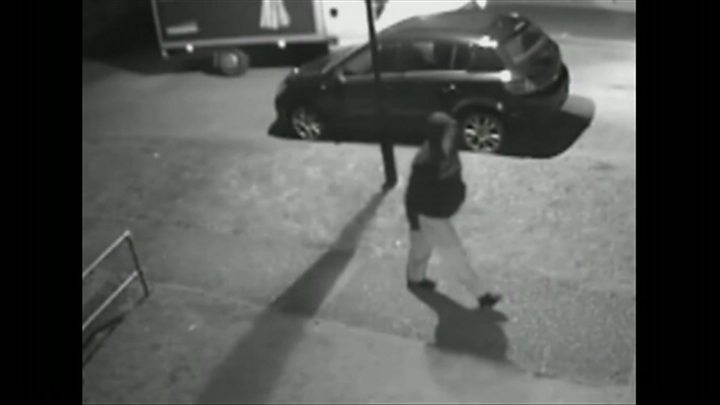 Detectives investigating the murder of Redwan El-Ghaidouni have arrested three people in a series of dawn raids.
The 38-year-old father-of-three was shot eight times through his car window in Uxbridge, west London.
A 41-year-old man, a 29-year-old man and a 34-year-old woman have been arrested on suspicion of conspiracy to murder.
A £50,000 reward is being offered for information to catch Mr El-Ghaidouni's killers.
Mr El-Ghaidouni was shot after pulling into his driveway at about 7pm on 3 February last year.
He was killed at the home he shared with his partner and three children on the junction of St Andrews Road and Vine Lane.
A man ran off through an alleyway which leads to Saunders Road shortly after the murder. He was caught on CCTV before running in the direction of Dowding Road.
He was wearing a dark hooded top with a large logo on the front as well as dark bottoms, dark gloves and dark shoes.
CCTV also shows the suspect - again wearing the same top - in Saunders Road on numerous occasions on Saturday, 31 January and Monday, 2 February 2015.
Police believe these were failed attempts to shoot Mr El-Ghaidouni.
Marwais Kakar, 34, of Great Field Drive, Uxbridge was handed a six month suspended prison sentence in August last year for making a false statement at obstructing the course of justice in relation to Mr El-Ghaidouni's murder.
Detective Chief Inspector Noel McHugh said: "Extensive enquiries have been carried out over the last year and we have made good inroads into understanding the circumstances surrounding Redwan's murder, leading us to these arrests today.
"Our investigation continues and we are still very much encouraging people to come forward."