Goodbye to Boleyn: Hammers fans' memories of Upton Park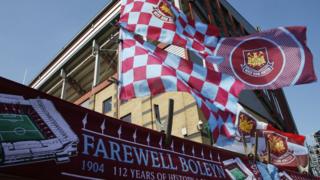 West Ham will play their final competitive game at the Boleyn Ground on Tuesday, against Manchester United, ahead of their Olympic Stadium move.
It promises to be an emotional occasion, as 112 years of football at the Upton Park ground will come to an end at the final whistle.
The Hammers fans have taken to Twitter, using the hashtag #FarewellBoleyn, to say their goodbyes to the stadium.
West Ham captain Mark Noble kicked off with this:
Many are recalling how many times they have visited Upton Park:
Joe shared a picture of what has been his seat in the ground - for 21 seasons:
While footballer Anton Ferdinand - a product of the West Ham United academy - shared these Upton Park recollections:
And West Ham player Josh Cullen, currently on loan at Bradford City, said it was a "privilege" to play at the Boleyn Ground.
While Boxing great Frank Bruno had this to say:
Lifelong fan James Longman co-hosts a West Ham podcast, and wrote this emotional blog about the move. Here is an extract:
"I'll miss everything about the Boleyn, even the things I moan about.
"I'll miss the wave of claret and blue walking down Green Street on match day; the flooded toilets in The Queens; the Queen's Market, where I used to run around with my mate; Ray's audio store, where Dad bought me my first walkman; the Focus furniture shop, where we would jump around on sofas; Ken's cafe; The Black Lion in Plaistow and all of its tiny toilets; my dad's old shop; seeing the ground appear; the Meccano turrets; the turnstiles; the terrible bar service; the walk up the steps; the smells; the memories; the ghosts - I'll even miss things I never knew but have only heard about."
Fellow fan and comedian James Corden agrees with Longman's sentiment:
And here is an interview with Corden, where he tells the BBC he might cry as West Ham say goodbye to their stadium.
Indeed, this emotional journey seems to be reducing many grown men and women to tears:
James Jones, editor of Football Fan Cast, describes Upton Park as the "greatest place on earth" in this Twitter tribute:
Meanwhile, other fans are focused on the football: