Wormwood Scrubs prison staff return to work after walkout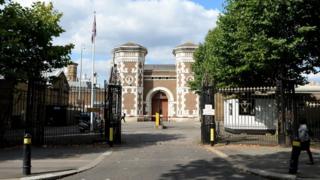 Wormwood Scrubs prison staff have returned to work after walking out citing health and safety concerns.
Staff walked out of the jail in Hammersmith and Fulham, west London, on Friday after recent incidents of alleged assaults by inmates.
A Ministry of Justice spokesman said: "All officers at HMP Wormwood Scrubs have now returned to work and the prison is running a normal regime."
A recent inspection report sparked claims of "Dickensian squalor".
On Friday Mike Rolfe, of the Prison Officers' Association, said there had been a number of assaults on staff and the jail was "flooded with drugs, mobile phones and weapons".