Wormwood Scrubs prison staff walk out in safety row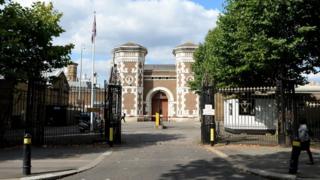 Staff at Wormwood Scrubs prison have walked out in a row over health and safety.
The Prison Officers' Association (POA) said the move comes after recent assaults on staff, and said the jail was "flooded with drugs, mobile phones and weapons".
A recent inspection report sparked claims of "Dickensian squalor".
The Prison Service said all inmates would remain in their cells and there was "no danger to the wider public".
Mike Rolfe, of the Prison Officers' Association (POA), said about 50 staff were outside the prison.
Wormwood Scrubs, located in Hammersmith and Fulham, was built between 1875 and 1891. It is a Category B prison and holds around 1,200 men.