Two held after PC run over by Land Rover in Dulwich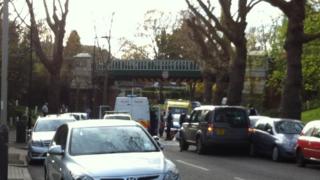 Two men have been arrested after a Met police officer was run over by a car he was trying to stop.
PC Will Freeland suffered a broken leg when he was knocked down by a Land Rover that police had pulled over in Village Way, Dulwich on Thursday.
The driver fled after the crash. A 36-year-old man was later arrested on Saturday on suspicion of driving offences and burglary.
Police said the PC was "very lucky" not to have been more seriously hurt.
More on this story and other news from London
The Land Rover had been stopped before PC Freeland approached the vehicle on foot.
As he opened the driver's door, the car reversed quickly taking him with it, before crashing into some parked cars.
The driver then fled towards the train tracks at North Dulwich Station.
Police said PC Freeland, whose leg was broken in two places, will be in a leg brace for six months and "will not be fit for operational duty for some time".
The 36-year-old arrested man was held on suspicion of causing grievous bodily harm, reckless driving, making off from the scene of an accident and burglary.
A 25-year-old man, who was a passenger in the Land Rover, was arrested at the scene on suspicion of burglary.
Both men have been released on bail until July.
Scotland Yard have appealed for anybody who witnessed the crash to contact them.