High Court awards Norfolk boy £300k pay-out over mother's death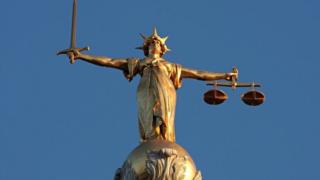 A boy has been awarded £300,000 in damages over the death of his mother because of a helpline's negligence.
When the Norfolk boy was a baby, his mother rang a helpline about her cough, sore throat and loss of appetite, the High Court was told.
She was not advised to see a doctor and died three days later, after the condition deteriorated into pneumonia.
Care UK, who took over the helpline provider later, admitted liability for the death and agreed to pay the sum.
Judge Patrick Moloney QC agreed the settlement, but said the boy and family should never be identified.
Barrister Jane Tracy Forster, said advice from a nurse on the out-of-hours helpline was "negligent" because she "should have realised this young woman needed to see a doctor that day".
'Shocking incident'
The boy, still aged under 10, had to be brought up by his grandparents.
Judge Moloney told them they had his "heartfelt sympathy" for the loss of their daughter.
"It is terrible when a young woman has a common illness, rings up a telephone helpline, does not get it and dies," he said.
"It is a shocking incident."
He told the boy: "What we are all here to do is to make sure, as far as we can, that you are properly looked after as your mummy would have wanted."
Claire Watson, for Care UK - which was sued as the successor to the liabilities of the helpline provider - said the firm offered "sincerest condolences" to the woman's parents.
"Lessons had been learned" and the case had been "scrutinised exceptionally carefully" to make sure it would not be repeated, she added.