HS2: 'Not fair' Camden residents are denied compensation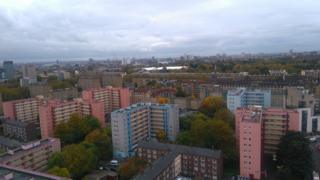 Camden Council is petitioning the House of Lords calling for more compensation for residents living on the planned HS2 rail route.
People in rural areas living between 120m and 300m of the high-speed line can claim up to £22,500.
But the leader of the council said this was not available in London, despite Camden residents facing disruption until 2033.
The government said it was working "to address local concerns".
The Minister for Transport Robert Goodwill told MPs in March that one of the reasons for the rural-urban discrepancy in HS2 compensation packages was because in a city like London, unlike in rural areas, there was an expectation there would be "a lot of construction going on from time to time".
Furthermore, the Department for Transport (DfT) said it had already agreed plans with the London Borough of Camden to mitigate the impact of HS2 by paying for noise insulation in some homes.
A spokesman said: "Rural areas will feel the effects of HS2 more than urban areas, where major construction projects are commonplace and properties relatively close to railways or building sites are often shielded from their effects by other buildings and background noise.
"Though some of the measures we have outlined are directed at rural areas only, this is not the full picture and we have gone beyond what is required by law in order to assist urban owner-occupiers."
London 'disadvantaged'
Phase one of HS2 will run from London to Birmingham, with a second phase to Leeds and Manchester due to open later.
The HS2 bill has passed its third reading in the Commons and is now in the Lords for review.
Camden Council leader Sarah Hayward, said: "It's simply not fair that Camden residents and businesses could spend years living next to a construction zone without a penny of compensation, which they would be entitled to in the countryside.
"If the government fails to make significant changes to the compensation scheme now, cities like Manchester and Leeds could also lose out in Phase 2 of HS2."
Camden is also unhappy businesses with a rateable value of more than £34,800 are not eligible for the Need to Sell compensation scheme. It says this puts London, with its high values, at a disadvantage.
The council says there has been "no improvement" in HS2's engagement with local residents despite previous assurances.
"There have been no meetings of the Euston Community Representatives Group, a group set up by HS2 Ltd, since September 2015, despite requests from its members; the promoter has failed to hold a public meeting with communities from the north of Camden.
"Vulnerable members of the community are anxious about what will happen to them."
HS2 said it has "more than a dozen information events" planned over the next six months and has opened a drop-in space for residents about the impact on Euston.