Finsbury Park group bid to stop Wireless Festival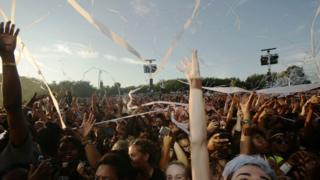 A park group is raising funds for legal action to stop Wireless Festival returning to Finsbury Park this summer.
The Friends of Finsbury Park said the music festival led to violence, crime and antisocial behaviour, and caused environmental damage to the park.
During last year's event 24 people were arrested and video footage emerged showing security being overrun.
A festival organiser said a change in management meant more security and access measures were being introduced.
Melvin Benn, from Festival Republic - which organises the event, said: "Wireless Festival has undergone a complete management restructure and will see some new key changes with additional access and security measures in place to ensure the safety of the event.
"We have been working closely with police, council and security to ensure the event runs smoothly and safely, with as little disruption to local people as possible."
Haringey Council said events like Wireless provided "around £400,000 worth of improvements".
The three-day event attracted 150,000 music fans to the park last year.
Opponents of the event have already raised thousands of pounds through a crowdfunding site and have launched a judicial review against Haringey Council, who run the park.
Friends of Finsbury Park say they are not against events taken place in the park but accused the festival of becoming "uncontainable".
The group's chair Tom Palin called Wireless a "very scary thing to have in your local park".
He said the event was "not a brilliant use of public space" as it closed large sections of the park, while last year large parts of the area were left as "sandy fields".
But Haringey Council argue events like Wireless helped pay "for around £400,000 worth of improvements" last year.
A spokesperson said the "unacceptable scenes last year involved a minority of festival goers".
They claimed the council was "working closely with the organisers, police, and local people to ensure Wireless Festival takes place safely".
A spokesperson for the Met Police said it had a "dedicated policing plan" for Wireless and "the vast majority of people... do not cause any problems".