Lorraine Barwell death: Accused caused 'catastrophic' injuries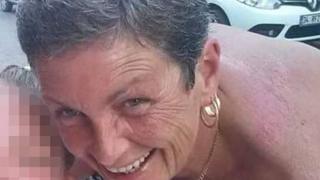 A man accused of killing a female custody officer kicked her in the head causing "catastrophic" injuries, a court heard.
Humphrey Burke, 23, was being escorted at Blackfriars Crown Court when he attacked Lorraine Barwell in June last year.
He was found unfit to plead to a charge of murder after being diagnosed with paranoid schizophrenia.
A trial of facts has begun into the death of the 54-year-old.
Mr Burke had been "unpredictable" at previous hearings, the Old Bailey heard.
Opening the trial, prosecutor Duncan Penny QC said Mr Burke had previously pretended to faint, collapse and go limp at court hearings.
Mrs Barwell had handcuffed herself to the defendant, which is standard procedure, when he collapsed to the ground.
'Ferocious kick'
Three male officers tried to get him on his feet but he began to struggle and was restrained and handcuffed behind his back, the court heard.
Mr Penny said: "As he was standing up, the defendant was bent forward whilst Lorraine Barwell was standing in front of him attempting to control his head.
"He then appears to have lunged forwards and managed to kick out twice towards Lorraine Barwell.
"He seems to have kicked at her twice, the latter kick connecting with her head."
She died in hospital from a brain haemorrhage two days later.
Mr Penny told the court that at the time of the attack, a psychiatric report had been prepared on Mr Burke but no definitive diagnosis of mental illness had been made.
Mr Penny told jurors they would hear from witnesses, including Martin Walker, who described a "ferocious kick to the jaw".
Afterwards, the defendant allegedly said: "I did not intend to murder that woman."
Jurors were told they would only have to decide whether Burke did the alleged act, not whether he was guilty.
The trial continues.