Clean-up starts on Wellington Arch sculpture in Hyde Park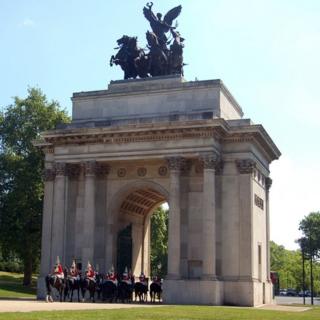 Cleaning work has started on a bronze sculpture on Wellington Arch near London's Hyde Park.
English Heritage is restoring the Quadriga, which depicts four horses representing the chaos of war and the angel of peace calming them.
Sculptor Adrian Jones began work on a prototype for the sculpture in 1908 before it was cast in bronze and placed on top of the arch in 1912.
Weather pollution and bird droppings have taken their toll on the sculpture.
In 1891 a plaster model of the Quadriga was exhibited at the Royal Academy, which the then Prince of Wales and future Edward VII suggested would be a suitable adornment for the arch that was being rebuilt while being moved in the 1880s for road widening.
The restoration project, spanning three months, will cost about £250,000.
Kate Mavor, English Heritage's chief executive, said: "We're giving one of London's most dramatic sculptures the tending loving care it deserves."
Work to remedy corrosion, flaws, cracks and damage where rain has penetrated the sculpture is also being carried out, said the charity.
The next phase of the project, currently taking place, is to apply several coats of clear wax, protecting the sculpture from future wear and tear, using blowtorches.