Unmarried mum calls for birth registration law change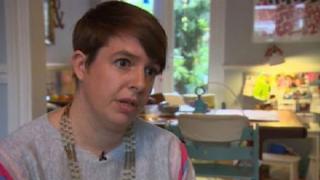 A mother is calling for a change in the law after being told she could not register her baby's father on the birth certificate because the couple were not married when he died.
David McNamara, 42, died from a stroke three weeks before Joana Niemeyer gave birth to their daughter Eira.
Ms Niemeyer, from east London, said she had to provide DNA evidence in court to have his name added to the document.
The Home Office said birth certificates needed to be "recorded accurately".
Ms Niemeyer, who also has a three-year-old daughter with Mr McNamara, is now calling for registrars to be allowed to decide if the names of deceased unmarried partners should be included on birth certificates.
Her petition has been backed by charity Widowed and Young and her local MP, Stella Creasy (Walthamstow, Labour).
'It's her right'
Ms Niemeyer, 38, said the registrar's office told her she would have to apply through the family courts to have Mr McNamara's name added.
She had to make a court application, provide DNA samples from herself, eight-month-old Eira and her partner's sister, produce utility bills and a relationship summary.
It cost her more than £1,000 and Ms Niemeyer described it as an "intimidating and upsetting" process.
She was given the green light in January to include the name, although she is still waiting for the new birth certificate to arrive.
"There is so little Eira has of him. It's her right, and it's his right too," she said.
Georgia Elms, chairman of Widowed and Young, said she would welcome the removal of costs to bereaved parents.
"It can [cost] up to £3,000, which, when you have lost your partner and you are probably on maternity leave, is a fee you cannot afford to have to find."
A Home Office spokesperson said: "In the sad circumstances where the parents are not married and the father has died before the birth has been registered, we rely on a court to make a declaration of parentage after considering the relevant evidence.
"It is up to the court to decide whether this evidence should include DNA."
Ms Creasy raised the issue in Parliament in March.
She told BBC London: "The fact that in the 21st Century we say unmarried mothers are not as trustworthy as married mothers... for the state to judge you in that way... doesn't seem right to me.
"As one of the mothers said to me, babies don't come from wedding rings."