Tipper truck driver jailed over 'avoidable' cyclist's death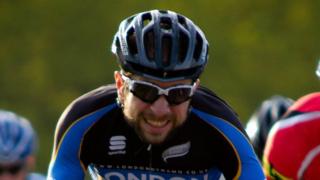 A truck driver has been jailed for 20 weeks for knocking over a cyclist whose death "may have been avoided" had the driver indicated and used his mirrors.
Robert Taylor, from Dartford, Kent, pleaded guilty to causing death by careless driving of 34-year-old cyclist and music producer, Akis Kollaros.
Taylor's tipper truck collided with the cyclist at Wardle Street in east London on 2 February last year.
Judge Noel Lucas has also banned Taylor from driving for 12 months.
Sentencing him at Wood Green Crown Court he said had Taylor checked his mirrors and indicated when turning left there was "every chance the accident would have been avoided".
'Tragic accident'
Mr Kollaros was on the truck's nearside at a give way junction and had been intending to turn right into Homerton High Street.
He had been falsely "lured into a sense of security by the fact the lorry had moved to the right hand side of the road," the judge said.
The court heard how Taylor's truck was fitted with safety cameras and motion sensors that would have been activated, triggering an audible warning of a left turn, had the indicator been in use.
Taylor failed to stop at the junction and said he did not know why he had not indicated.
His defence counsel said he was devastated by what had happened and he would live with the consequences for the rest of his life.
Mr Kollaros, who was originally from Greece, died of head injuries that were "instantaneously fatal", the court heard.
His mother Maria Kollarou said after the sentencing: "Nothing can bring back the son I loved so dearly.
"I sincerely hope that lessons have been learnt from this tragic incident and that cycling on London's roads will become safer as result of Akis's death."