Lambeth library occupation: Council to evict protesters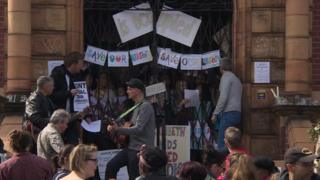 Campaigners who have been living in a London library in a bid to keep it open are now facing eviction.
The group have been in Carnegie Library in Loughborough Junction, south London, since 31 March.
Lambeth Council has now successfully obtained an Interim Possession Order (IPO), which it says will be served on the group later.
The occupiers, which include children and pensioners, have 24 hours notice to leave once the order is served.
Lambeth Council says it is hopeful that protesters will then leave the building within the time limit to "avoid it becoming a police matter".
'Misleading' occupation
Protester Michaela Loebner said the group of about 15 protesters who remain are waiting for the council to serve the eviction notice.
"When they serve it we will make a collective decision," she said.
"We're taking a stand. The council are saying these are hard decisions to make but we think they are making these decisions far too easily."
Teenagers studying for their GCSEs and A-Levels have even created their own study room in the building.
Lambeth Council says the occupation is "misleading" as the Carnegie will only close for a year, before re-opening as a "healthy living centre".
A spokesperson from the council said the order would be served to the occupiers later on Friday.
"They will then have 24 hours before they are in breach of the IPO after which it will become a police matter," the spokesperson said.
"However, we are hopeful that the protesters will leave the building before that."