Rula Lenska banned for drink-drive crash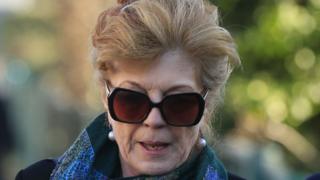 Actor Rula Lenska has been banned from driving after drinking and then crashing her car with her three-year-old grandson in the back.
Wimbledon Magistrates' Court heard Lenska, 68, was driving through Twickenham, south-west London, when she hit a parked car and mounted the kerb.
The impact caused her Kia car to flip on to its side and she and the child had to get out through the boot.
The court heard the former EastEnders star felt genuine remorse.
Vodka with builders
No-one was injured in the accident last month.
More on this story and other news from London
Seema Parikh, Lenska's solicitor, said her client had drunk vodka on the afternoon of 22 February with her builders to celebrate the completion of a new garden fence.
She felt "absolutely fine" by the evening when Lenska's daughter asked her to drop the toddler home, magistrates heard.
"She would not have risked her own grandson's life in this kind of situation," Ms Parikh said.
When tested she was found to have 47 micrograms of alcohol per 100ml of her breath - the legal limit is 35 micrograms.
A statement released on behalf of Lenska said the incident would "always be engraved in her mind and she cannot express enough her remorse for what happened".
In addition to the 16-month driving ban, the actor was fined £410 and ordered to pay a surcharge of £41 as well as £85 in costs.
Lenska has starred in EastEnders and Coronation Street, among other shows, and infamously allowed George Galloway to lick milk from her fingers as an imaginary cat when they both appeared in Celebrity Big Brother in 2006.