Science lesson for Queen on Lister School visit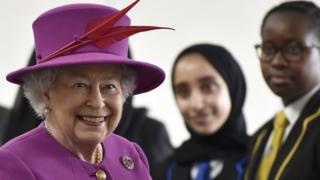 The Queen has visited a school in east London to see how her charity The Queen's Trust is supporting young people.
Teachers and pupils at Lister Community School in Plaistow, east London, welcomed her earlier.
The Queen watched students attempt to neutralise an alkaline with an acid during a triple science lesson.
The National Youth Orchestra (NYO) performed part of a Benjamin Britten piece for her.
The Queen's Trust was founded around the time of the Silver Jubilee in 1977 and gives grants to youth charities.
They include Teach First, which recruits and trains youngsters to join the teaching profession, the Duke of Edinburgh's Award Scheme and the NYO.
Lister is a Teach First partner school and helps to train recruits. It teaches deaf and partially deaf students alongside pupils in mainstream classes.