Fox shot in face with crossbow in Bromley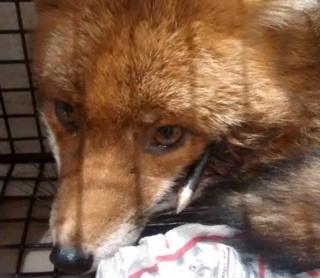 A fox has been speared by a crossbow bolt through its neck and cheek.
The animal was discovered with horrific injuries in Gosfield Road, Bromley, in south London.
It is illegal under the Wildlife and Countryside Act to harm a wild animal and vets believe the fox was running away when it was speared on Saturday.
A spokesman for the RSPCA said the injury would have caused the animal a great deal of pain and the crossbow only narrowly missed vital organs.
The animal is being treated at the Fox Project charity in Tunbridge Wells and anyone with information about the crossbow attack is asked to contact RSPCA or police.