Mother's 12-year battle proves son 'unlawfully killed' in Serbia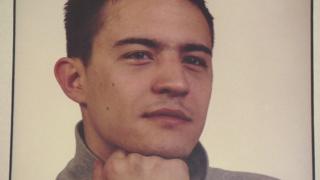 A mother who has won a 12-year legal battle to prove her son was "unlawfully killed" in Serbia said he still deserves justice.
Susan Sutovic, a human rights lawyer from Acton, learned her son Petar had died in her Belgrade flat in 2004.
Serbian police said he died of a drug overdose before a London coroner recorded an open verdict.
Ms Sutovic fought the ruling and was vindicated last week as a new inquest ruled her son had been murdered.
Petar Sutovic's body was returned to his family in January 2004 within two days of being found. He was wearing bloodstained clothes.
A routine post mortem examination was carried out and an inquest into his death gave an open verdict.
Ms Sutovic challenged the lawfulness of the verdict in 2006, using evidence she had collected, before winning the right to another inquest.
However, it was another ten years before she was to hear from a coroner that her son had been unlawfully killed, as she had believed all along.
Ms Sutovic told BBC London that she had spent hours gathering forensic evidence from the crime scene.
She said photographing her son's bloodstained clothes for evidence had caused her to "switch off" her emotions.
Victory was 'bitter-sweet'
"It was very difficult seeing the blood," she said.
Ms Sutovic's family blamed the delays they experienced on Serbia and the UK.
The Foreign and Commonwealth Office responded it had "provided support" to the family and offered to help again in the future.
Kim Spooner, trustee of the charity Murdered Abroad, said if investigations were not carried out "robustly" it could lead to families searching for answers for decades.
Although Serbian authorities are not obliged to begin a new inquiry, the family's solicitor Maria Georgian said: "Susan has done all she could and now it's for the authorities to take over.
"There has been a murder here and it needs to be investigated. The culprits need to be found and they need to be brought to justice."
Ms Sutovic said her victory felt "bitter-sweet"
"I do feel aggrieved because I so much believed in our justice system," she said.
"He deserves justice."