Man sectioned over London restaurant hostage stand-off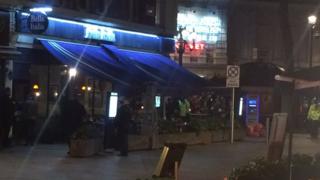 A man who was arrested after a woman was taken hostage in a West End restaurant has been sectioned under the Mental Health Act.
Police with riot shields surrounded Bella Italia on Irving Street when the stand-off began on Wednesday night at about 20:50 GMT.
The area was cordoned off and diners ordered to stay indoors until the woman was released unharmed at about 22:45.
The man is on bail pending assessment, Scotland Yard said.
Officers were seen leading a man from the scene and driving him away when the stand-off ended.
Police at the restaurant said the man who was held had been found with a knife in his pocket.
The incident was "not terror-related", the Met said.