'Sobriety tags' rollout as 92% comply in pilot scheme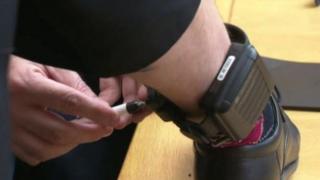 Courts across London will now be able to issue "sobriety tags" for offenders whose crimes were influenced by alcohol.
The ankle bracelets, which detect alcohol levels in the wearer's sweat, alert the authorities when someone has breached an abstinence order.
A pilot scheme in south London boroughs found 92% of the 113 people issued with tags did not drink.
The rollout will cost £850,000, the Ministry of Justice (MoJ) said.
Offenders in the pilot were fitted with the tag for 120 days.
More than half of violent crimes involve alcohol, according to the British Crime Survey.
Michael Gove, the justice secretary, said it would reduce reoffending and "[help] offenders understand the detrimental impact drinking alcohol can have on their behaviour."
'Innovative technology'
Continuous Alcohol Monitoring tags take an average of 48 alcohol content readings each day. Those issued with them cannot have a bath or go swimming.
Some complained the tag was bulky and uncomfortable in bed, though around half of the 27 who answered a survey when their tag was removed said it had improved their health by forcing them to stop drinking.
Magistrates are expected to use the tags as an alternative to sentencing offenders to unpaid work.
They are not suitable for people who are dependent on alcohol.
The MoJ will fund just under half the cost of the scheme, with the London Mayor's Office for Policing and Crime contributing the rest.
The Mayor of London, Boris Johnson, said the tags would make "even more offenders stay off the booze and get back on the right track".
"From assault, to drink-driving, to theft and criminal damage, this innovative technology is driving down reoffending and proving rehabilitation does not have to mean prison."