Man arrested over London restaurant hostage stand-off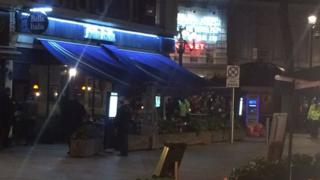 A man has been arrested after a woman was taken hostage, apparently at knifepoint, at a restaurant near Leicester Square in London's West End.
Police with riot shields surrounded the Bella Italia restaurant on Irving Street after the incident was reported at 20:50 GMT.
Parts of the busy tourist area were cordoned off and nearby diners were ordered to stay indoors.
The man was detained soon after 22:45. There were no reports of injuries.
He was seen being led from the restaurant by police and was then driven away.
Officers at the scene said the man had been found with a knife in his pocket.
Jordan Brown, who was playing a gig at Caffe Concerto next door, told the BBC: "All of a sudden the police came around and said 'please can we stop playing'.
"They then kept us inside."
Police have said the incident is not terror-related.