Sadiq Khan earned £647,000 since becoming an MP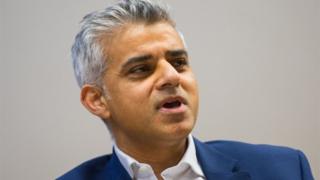 Labour's mayoral candidate, Sadiq Khan, has released tax returns showing that his only earnings outside Parliament came from media appearances.
He has earned £647,406 since becoming an MP in 2005, of which £3,250 came from TV and radio work.
The release of his records follows Zac Goldsmith's publication of his tax returns earlier this week.
London Labour said Mr Khan's returns demonstrated his commitment to "transparency and openness".
Mr Khan was paid £1,500 for appearing on the BBC's Have I Got News For You last year but donated the money to charity, his office said.
The figures released show he has been paid a total of £3,250 for media appearances since 2005 and declared no other income apart from his roles as an MP, government minister and councillor.
He stood down as a councillor in May 2006, a year after he was elected.
The information was published after Mr Khan's Tory rival Zac Goldsmith revealed he made £10m from trusts, asset sales and salary over the past five years and paid more than £4.5m in tax.
Candidates' tax arrangements were one of the main areas of controversy during the 2012 mayoral election, leading to calls for politicians to publish their returns more routinely.