London Super Comic Convention: Hundreds of costumed comic-book enthusiasts at event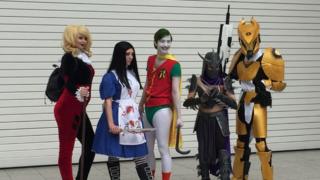 More than 30,000 people dressed as comic book characters are expected to attend this year's London Super Comic Convention in London's Docklands.
Fans will flock to the ExCel centre for the latest in comics, graphic novels and related memorabilia.
Talks and autograph sessions are also held with comic book creators.
Jaw-dropping costumes can be seen at the event, although organisers stipulate they must have "enough body coverage to be worn in public".