Chelsea fans' Paris Metro racism victim going to game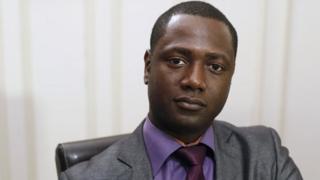 A black commuter who was pushed off the Paris Metro by Chelsea fans ahead of a match against Paris Saint-Germain will watch the clubs play later.
Souleymane Sylla was prevented from boarding the Metro last year as fans chanted "we're racist and that's the way we like it".
Speaking to BBC Radio 5 Live, he said: "My wounds... after one year are still present and very much open."
He was invited to the Champions League tie in Paris by the French side.
Chelsea has not commented.
Mr Sylla became a target of racism as violence flared ahead of the teams' league tie on 17 February 2015.
"I was affected by it, but [although they weren't with me] my family were affected by what happened more," he said.
"My young children were traumatised by it all... It's taken one year for me to be able to take the Metro again.
"Paris Saint-Germain have supported me enormously after what happened.
"But, I have not heard any news from Chelsea since last year. I think that's the only bad thing in all of this. It was Chelsea supporters who attacked me it should be Chelsea who are supporting me."
Mr Sylla said the game would be the second match he has attended since the incident and he said he is prepared to speak to Chelsea fans if they spoke to him.
Of the people who abused him, he said they "don't represent football".
"I want to be present in the sporting arena in order to eradicate racism because there is lots of racism in football," he said.
Richard Barklie, from Carrickfergus, County Antrim, and Joshua Parsons and William Simpson, both from Surrey, were banned for five years from attending football matches while Jordan Munday, of Sidcup, south-east London was banned for three years.
Dean Callis, 32, of Liverpool Road, Islington, London received a five-year banning order for a number of incidents, including a separate one in Paris.
Update 21 March 2016: This page has been amended to clarify that the order concerning Dean Callis did not involve the incident on the Metro.