Man jailed for attack on journalist Gary Carter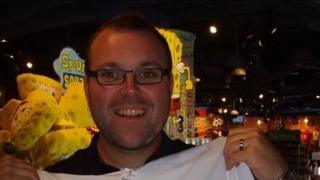 A man who left a journalist with severe brain injuries and a fractured skull after an attack in an east London street has been jailed for two years.
Gary Carter, 36, a freelance rugby league reporter from Manchester, was found with head injuries outside Bethnal Green station on 6 November.
James Flanagan, 35, of Marsden Street, Kentish Town, north London, pleaded guilty to grievous bodily harm.
Sentencing, the judge said the attack was a "cowardly and vicious assault".
Snaresbrook Crown Court heard that after an initial assault Flanagan, with "cowardly deception", offered to shake the journalist's hand before lashing out.
"A loud crack" was heard as Mr Carter's head hit the pavement.
'Big punches'
The Recorder of Redbridge judge David Radford told Flanagan: "You were responsible for a sustained, cowardly and vicious assault causing life-threatening and life changing injuries to an innocent man who had done nothing to justify such an attack."
Mr Carter, of Stalybridge, Tameside, was in London to cover a Test match between England and New Zealand and was having a drink alone at the Star of Bethnal Green pub, where Flanagan was drinking with friends and his nephew.
The group were noisy but Mr Carter did not complain, the court was told.
When their paths crossed outside the pub, two paramedics parked there who saw the attack said the journalist appeared to be non-aggressive when Flanagan punched Mr Carter on the left side of his face, hitting him in the eye.
Mr Carter raised his arms to protect himself and walked backwards before Flanagan punched the journalist with "big punches" to the head, Lucy Organ, prosecuting, said.
"The defendant punched him with upper cuts to his abdomen and chest. Mr Carter fell backwards and a loud crack was heard as he connected with the road," she said.
Mr Carter needed surgery to release pressure on the brain and later had a cardiac arrest.
He has problems with language, fluency, memory and needs help with walking and daily activities.
In a victim impact statement, his wife Gemma, said "it is impossible to put in to words" how it feels "to be told that your husband has two minutes to live".