George Verrier death: Two Met Police constables dismissed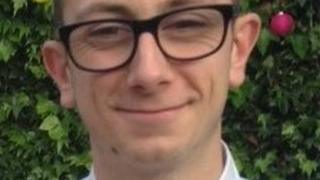 Two Met Police constables have been dismissed for gross misconduct after a teenager died when he was punched in south-east London in September 2013.
George Verrier, 17, suffered head injuries in a fight after a party in Bromley. He later died in hospital.
A four-day hearing found PC Claire Derbyshire and PC Peter Cruise failed to assist the victim and later gave "misleading reports".
An 18-year-old was convicted of manslaughter over the death in 2014.
Benjamin Hayes, of Constable Mews, Bromley, was jailed for four and a half years.
More on this story and other news from London
George Verrier hit his head on the ground after he was punched but he told officers at the scene he did not want hospital treatment.
'Let him down'
He was taken to hospital the next day after he could not be woken.
A post-mortem examination later found he had a skull fracture and bleeding from an injured artery.
The inquiry found PC Derbyshire and PC Cruise had "conducted no or insufficient enquiries" and "knowingly made misleading and inaccurate reports of the outcome".
The officers also "failed to ascertain the victim was 17-years old and that other young men were at the scene who had been drinking with juveniles", the Met said
Deputy Assistant Commissioner Fiona Taylor said: "At the very point George needed the Metropolitan Police service, these officers let him down".
A third constable received "local management action" and another was given "local management advice" over the death, police said.