Criminal records over Havering school parking incidents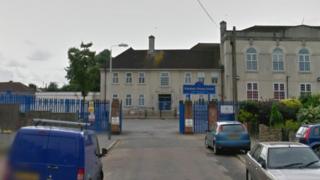 Parents who flout parking regulations outside six east London primary schools could get a criminal record.
Motorists will be issued with £100 fines and three warnings before a criminal prosecution is sought,
Havering Council, which will implement the scheme, said the current parking situation meant children faced an "imminent threat to life".
One headteacher said a child was recently hospitalised after being hit by a parent doing a three-point turn.
Una Connelly, headteacher of Wykeham Primary, said: "There have been a number of serious incidents involving dangerous driving by parents.
"There have also been many near misses, and we're acting before there's a fatality."
From the spring, a Public Space Protection Order (PSPO) will be set up meaning CCTV cameras will be installed and anyone caught flouting the regulations can be prosecuted.
She said: "The only way we're going to stop these parents, and it's only a very small minority, is by prosecution. This ...order, for me, is the best idea."
---
Other methods to improve the parking situation
Designated drop-off/pick-up zone within the school ground
Close roads around the school at the start and finish of the day
---
Other management methods include training parents, teachers and resident to issue parking fines.
But Mrs Connelly said she was reluctant to put others at "risk of abuse of any kind".
Robert Benham, from Havering Council, said it was hoped making parking a criminal offence would work as a deterrent to inconsiderate parking.
He said: "Three strikes and they're holed before the magistrates. And I think this behaviour will stop."
Quick-fix 'warning'
Iain Temperton from Road Safety GB said parking could help to regulate traffic by forcing drivers to slow down, and urged the council not to focus on quick-fixes.
He said: "The PSPO sounds like a short-term solution. There's always the difficulty you're going to move the problem somewhere else."
The schools involved in the scheme are: Gidea Park, Parsonage Farm, Ardleigh Green, Broadford, Wykeham and Engayne.