Fake police officer rapes 12-year-old girl at knifepoint in Enfield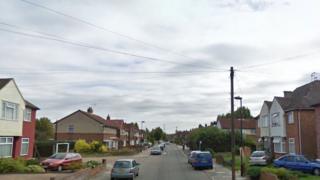 A man claiming to be a police officer raped a 12-year-old girl at knifepoint after stopping her on a street in north London and accusing her of shoplifting.
The man cycled towards the girl in Enfield saying she had been caught shoplifting and he would search her. As he did so, he raped her and threatened her with a knife, the Met Police said.
A 32-year-old man has been arrested.
The attack in Sandhurst Road at 17:30 GMT on Wednesday has been linked to an earlier incident with another girl.
Grabbed by the wrists
The 12-year-old girl was approached by a man on a bike on Shirley Grove, near Sandhurst Road, at about 16:30 GMT on the same day.
He told the girl he was a police officer and that she fitted the description of a girl he needed to arrest.
He told her she needed to go to a van with him and when she refused he grabbed her by the wrists. He eventually let go and she managed to run off.
The arrested man remains in custody.
Det Insp Tracey Cormack urged anyone who "may have witnessed these offences or think they may have been approached by this man" to contact the police.