Dragons' Den star 'paid for sex with 13-year-old girl'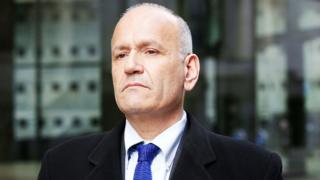 A former Dragons' Den star paid a 13-year-old girl for sex in a rented London apartment after meeting her on a "sugar daddy" website, the Old Bailey has heard.
Doug Richard, 57, allegedly paid for the girl and her 15-year-old friend to travel from Norwich in January 2015.
The jury was told he took them to a Bishopsgate flat, where he spanked the younger girl and had sex with her.
He denies sexual activity with a minor and paying a child for sex.
Mr Richard, a US citizen who lives in Islington, north London, says the sex was consensual and that he "reasonably believed" the girl was over 16.
He gave a total of £480 to the teenager and her friend, which he says was for "travel expenses".
'Revealing' photograph
Prosecutor Gino Connor told the jury how Mr Richard met the girl through a US website where he listed his profile as a "sugar daddy", while the 13-year-old called herself a "sugar baby".
During an iChat exchange retrieved from his laptop, the defendant asked her for a "revealing" photograph on her hands and knees.
"You are my new daddy I will do anything to keep you happy," the girl replied.
They arranged to meet and Mr Richard made a payment of £120 through PayPal, the court heard.
The girls travelled to Liverpool Street station on the morning of 2 January, where they met Mr Richard in a nearby cafe.
He asked their ages and they told him they were 16 and 17, the court heard.
Police were alerted after the mother of the older girl noticed a PayPal deposit in her bank account.
An examination of the 13-year-old on 4 January indicted she had suffered an injury that could have been caused by sex.
Mr Richard was arrested the following day at the Lord Milner Hotel in Belgravia.
The court heard he reacted by saying: "As you can see I am in a lot of trouble."
The trial continues.