London riots gingerbread thief's family loses prison death claim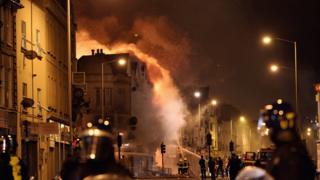 The family of a man who died in prison while awaiting sentence for stealing a gingerbread man during the 2011 London riots have lost their High Court claim.
James Best, 37, from Croydon, south London, suffered a fatal heart attack in Wandsworth Prison in September 2011.
His foster mother and her son argued that the attending nurse took too long to summon an ambulance, which then took too long to come.
But the presiding judge concluded that the delay was not unreasonable.
Dolly Daniel and her son Owen alleged that St George's Healthcare NHS Trust and the London Ambulance Service breached Article Two of the European Convention on Human Rights, which protects the right to life, and Article Three, which prohibits subjecting anyone to "inhuman or degrading treatment".
Mrs Justice Lang said that the five minutes or so that the nurse took to assess Mr Best before calling an ambulance was reasonable, given he had no history of heart disease.
She also said there was no reason to think that a quicker response time would have changed the outcome.
The judge refused permission to appeal.
St George's Healthcare NHS Trust said in a statement: "The judge in this case said that our member of staff acted promptly, reasonably and professionally and did all she could to save Mr Best's life. We repeat our condolences to his family."
London Ambulance Service also repeated their condolences but said it would not comment further.
The BBC has contacted Mrs Daniel for a response, but she has yet to comment.