London taxi drivers seek judicial review of cycle superhighway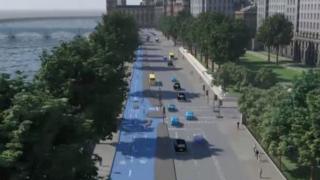 Mayor Boris Johnson's plan for cycle superhighway linking east and west London does not have planning permission, taxi drivers told a court.
The Licensed Taxi Drivers' Association is seeking a judicial review of the £47m Westbourne Grove to Tower Hill route, via the Victoria Embankment.
The lanes will take up space causing disruption, the High Court heard.
Transport for London (TfL) said the plan was "works of improvement" and did not need planning permission.
The two-lane cycle way across the city is set to finish in the next few months.
Steve McNamara, Licensed Taxi Drivers Association's (LTDA) general secretary, has described the scheme as Mr Johnson's "last hurrah" before leaving office in May.
Project rethink
The LTDA is asking Mrs Justice Patterson to grant a judicial review of the decision, which could force a rethink of the project.
Mark Lowe QC, for the LTDA, said construction started last April without planning permission or an environmental impact assessment (EIA) as required by the EU EIA Directive.
He urged the judge to class the project as a "development" as defined under the Town and Country Planning Act 1990, which was not exempt from the need for permission, more so as it was could create "significant adverse environmental effects".
Howard Carter, general counsel at TfL, said "the east-west cycle superhighway will make London's roads safer for all, particularly cyclists".
Timothy Straker QC, appearing for the organisation, said the LTDA's objective was plainly "the cessation of further works, if not the dismantling of the work already carried out".
He said such a move would cause "considerable and unjust inconvenience" to the project.
The hearing continues and is expected to take two days.