Sian Blake death: Inquest opens in EastEnders actress and sons case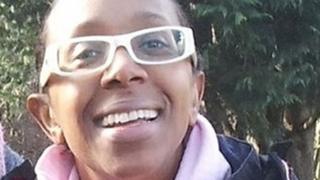 The inquest into the deaths of an EastEnders actress and her two young sons has opened.
Sian Blake, 43, Zachary, eight, and Amon, four, were found buried at their south-east London home on 5 January.
The hearing at Croydon Coroner's Court lasted four minutes before being adjourned.
Ms Blake's partner and the children's father, Arthur Simpson-Kent, 48, was arrested in Ghana in connection with their deaths.
Mr Simpson-Kent was arrested at a remote beach cove on Saturday and appeared at Kaneshie Magistrates' Court in Accra on Tuesday. He was remanded in custody for two weeks.
More on this story and the latest on London news here
Extradition proceedings are continuing in an attempt to return him to the UK for questioning.
Police officers spoke to Mr Simpson-Kent, 48, on 16 December at the Erith family home after his partner and two sons were reported missing.
He told police they were away visiting friends. Shortly afterwards he flew to Ghana.
The Met has faced criticism about its handling of the case and is being investigated by the police watchdog the Independent Police Complaints Commission and its own Directorate of Professional Standards.
Metropolitan Police Commissioner Sir Bernard Hogan-Howe earlier told LBC the fact it took so long to find the bodies "suggests that we could have done it quicker" but "without knowing the facts I'm not going to judge anybody".
Post-mortem examination results revealed Ms Blake and her two young sons died from neck and head injuries.
The actress played Frankie Pierre in EastEnders between 1996 and 1997 and had motor neurone disease.
---
Timeline
13 December: Sian Blake is last seen in Waltham Forest, east London, with her sons Zachary, eight, and Amon, four.
16 December: Police visit her home in Erith and speak to Mr Simpson-Kent. This is the last time he is seen.
3 January: Miss Blake's car is found in Bethnal Green, east London
5 January: Bodies found at her home in Erith, south east London
6 January: Police announce Mr Simpson-Kent is thought to have travelled to Ghana
8 January: Sian Blake and her two sons are confirmed dead
10 January: Arthur Simpson-Kent is arrested at a remote beach resort in Ghana
12 January: Arthur Simpson-Kent appears at Kaneshie Magistrates' Court and is remanded in custody.
13 January: An inquest into the deaths of Sian, Zachary and Amon Blake is opened and adjourned
---