London mayoral rivals clash over right-to-buy extension plan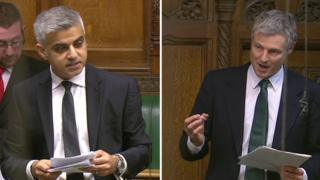 London's Conservative mayoral candidate Zac Goldsmith has defended the government's plans to extend right-to-buy to housing association tenants.
But Labour's mayoral candidate, Sadiq Khan, said the reforms were "rubbish".
He insisted housing association homes sold in London ought to be replaced within the same area.
But Mr Goldsmith disagreed, arguing instead two homes should be built for every one sold, irrespective of location.
Mr Khan told the Commons that as it stands the Housing and Planning Bill will "do nothing to help solve the housing crisis facing London".
'Preserve of rich'
He was heckled by a Conservative MP who shouted "Rubbish!" prompting Mr Khan to continue: "Somebody's described the bill as I would - rubbish."
He warned that if housing association properties were sold in wealthier parts of London but replaced elsewhere, the city would be "hollowed out" and be turned into "the preserve of the very rich".
He introduced an amendment intended to ensure money generated by the sale of housing association properties would have to be reinvested in affordable housing in the same local area.
Mr Goldsmith refused to back the idea, telling MPs: "I stood on a manifesto which included a commitment to extending right-to-buy to housing association tenants.
"I think that's the right policy that will enable hundreds of thousands of people to achieve home ownership, who otherwise would not have been able to do so."
His proposal, requiring two affordable homes to replace each high-value council house sold in London, has been backed by the government and will become part of the bill.
Conservative MPs including former housing minister Mark Prisk, Ben Howlett and Nicola Blackwood took the idea further, arguing it should be extended to expensive "hotspots" outside the capital, such as Bath and Oxford.
MPs later rejected Mr Khan's amendment by 297 votes to 212.