Kester David's family plan to sue Met after his death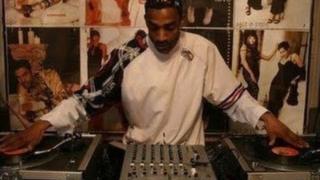 The family of a police informant whose body was found by a railway line has said it is planning to sue the Met Police after its investigation into his death.
Kester David, 53, from Wood Green, was found badly burned under a bridge in Palmers Green in 2010.
Scotland Yard apologised to his family on Monday for "shortcomings" in the original investigation into his death.
The Met said it understood the family's frustration.
Mr David's brother said the force's apology "does not go far enough" as detectives "initially spent most of the time covering up".
The Met's initial investigation in 2010 into the DJ and part-time bus drivers' death concluded he committed suicide.
'Not good enough'
But a year later an internal investigation at the force found a "catalogue of errors" and a "failing in duty" as full CCTV and mobile phone records were not checked and witnesses were not interviewed.
"In the initial part of the investigation we do believe there was a racist aspect to it and we do believe my brother died because he was a police informant that had been caught," the former DJ's brother said.
The family believe he was murdered.
The Independent Police Complaints Commission (IPCC) urged the Met to apologise in August 2014.
Mr David's brother said the delay in apologising was "not good enough".
He added: "The IPCC need more control over the Met. They disregard whatever the IPCC instructs them to do."
'Understand frustration'
A spokeswoman for the Met said the force was aware a claim form had been issued at the Central London County Court.
The reinvestigation found no evidence he was murdered and that the IPCC did not find the investigation was flawed due to Mr David's ethnicity, she said.
She said there was "no suggestion" anything was covered up in the first investigation but the Met "understands the family's frustration" over how long it took to respond to the IPCC's call to apologise.
"It is not the case that the Met refused to apologise," she added.
"Our position had always been that it was important the reinvestigation into Mr David's death was finalised so that any decision we made around apologising was based on all the available evidence."