Carshalton serial sex attacker warning issued by police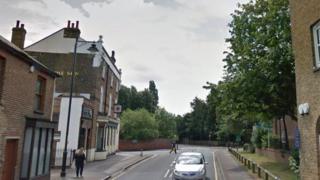 A woman was sexually assaulted by a man who tried to grab a further two victims off the street in just over 48 hours in Carshalton, the Met said.
Officers are warning women to take care walking alone after dark in the south west London suburb.
The first victim, a 34-year-old, was attacked last Thursday as she walked along North Street.
Two days later, the attacker grabbed two women within minutes of each other in the same area.
The attacker, described as Asian and aged in his late 20s to early 30s, sexually assaulted his first victim at about 19:00 GMT as she walked towards the Sun pub, said the Met.
She told police he followed her to a nearby park and grabbed at her again, but she ran away after shouting at him.
On Saturday, police believe the same man helped a woman after she nearly fell over at Carshalton station, at around 21:30.
He then walked with her to Festival Walk where he grabbed her and tried to drag her into a park, but failed and she ran off.
A 27-year-old woman walking a dog was then followed by the man minutes later, said police. He tried to grab her as she walked along North Street to the same pub.
Appealing for witnesses, police said the attacker was wearing a brown leather jacket and dark trousers when he targeted the first woman and a striped grey top and jeans when he grabbed the second two. He is around 5ft 6in tall.