Tube drivers consider fresh strike action over night services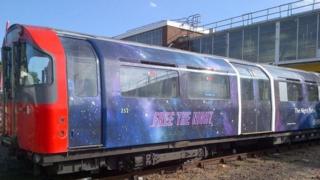 London Underground (LU) drivers are considering three days of strike action in a row over the Night Tube, the BBC understands.
In an internal document seen by the BBC, the train drivers' union Aslef proposes 24-hour strikes on 27 January and 15 and 17 February.
The union's executive committee will meet on Monday to consider the action.
London Underground accused Aslef of "making excessive demands for more money" by suggesting the action.
The Night Tube, which was due to begin in September, will see 24-hour services on five lines on Fridays and Saturdays.
In the document, Aslef said it had been left no other choice than to call a strike as, it claims, LU had refused all approaches for talks since their last meeting on 10 November.
The Aslef document said: "We genuinely regret the inconvenience that will be caused but the behaviour of London Underground's senior management team have left us with no other choice.
"We want to see an all-night service introduced and we are not opposed to the recruitment of part-time staff but we will not accept a zero-hours culture being introduced and working conditions undermined."
Mayor of London Boris Johnson said it was "unbelievable" the union was contemplating strike action.
He said: "They were offered excellent terms and conditions for their members to deliver the Night Tube. They turned those down - without ever properly consulting their membership."
LU has offered a four-year pay deal to its workers as part of the Night Tube changes and said it will hire part-time drivers to staff an all-night service at weekends.
It had recently advertised for 200 part-time drivers and received more than 6,400 applications, according to Mr Johnson.
"When the new part-time work-force is ready, they will deliver the service. London will get the 24-hour night service it needs, with or without the help of Aslef," he said.
'Astonishing' action
Steve Griffiths, chief operating officer for LU, said the action showed the "Aslef leadership is trying everything to stop the Night Tube".
"Our four-year pay offer is extremely fair," he said. "As a result of hiring new drivers - who will be on permanent, part-time contracts with the same rates of pay and the same benefits as existing drivers - we've made absolute guarantees that no current driver will have to work the Night Tube unless they want to.
"This total protection of work-life balance is precisely what Aslef leaders asked for, so it is astonishing that they are now once again threatening strike action.
"The truth is that they are making excessive demands for more money, fewer hours and a four-day week and expect fare and tax payers to pick up the bill," he said.
The Rail, Maritime and Transport (RMT) union has also said it will be considering its own report into the "total breakdown of negotiations" at an internal meeting on Monday.
An RMT spokesman said: "That report will include a number of recommendations for action in support of our members in this dispute."
Unions took industrial action over the Night Tube last summer, which shut down the entire network, having called for increased pay and a limit on how many all-night shifts their members would be asked to do.
A 24-hour service on the Jubilee, Victoria, Piccadilly, Central and Northern lines had been due to start at weekends on 12 September.
LU claims the Night Tube is needed to deal with huge demand from passengers, especially at weekends, and is "pivotal" to the city's economy with government estimates it would add £6.4bn to the London economy by 2030.
Its longer-term aim is to extend night-time services to the Metropolitan, Circle, District, and Hammersmith & City lines by 2021, to the London Overground in 2017 and the Docklands Light Railway by 2021.