Father and son stabbing: Met seek two men after north London attack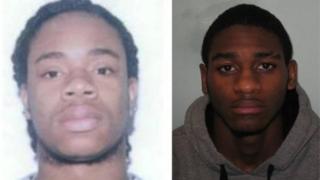 Two men are being sought by police after a father and son were stabbed in a row between drivers in north London on Christmas Eve.
The men aged 65 and 37 were stabbed multiple times by two men near Manor House Tube station.
The Met has named Kyroe Oscar Howsen, 24, from Haringey and Amari Orgill, 19, from the Finsbury Park area as the two men they want to speak to.
Anyone with information is urged to contact the force.
'Violent attack'
Police said the father and son, in a grey van, were attacked at about 19:50 GMT after an argument with the driver and passenger of a black Smart car.
The incident began in Green Lanes and carried on into Hermitage Road and Vale Grove.
The relatives were seriously injured and required hospital treatment. They have since been discharged.
Det Const Leon Ure said: "This was a very violent attack and the injuries the victims sustained were serious and it was very fortunate they were not fatal.
"The elder victim had just arrived in the county to spend Christmas with his family; instead he and his son had to be rushed to hospital."