Penge gas leak: People evacuated from homes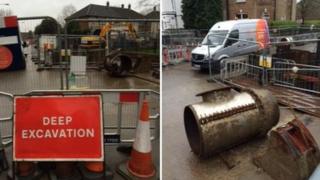 Hundreds of people were evacuated from homes in south London following what police described as a "huge" gas leak.
The leak was reported in Penge Lane, Penge at about 22:30 GMT on Saturday.
Gas distribution firm SGN had been carrying out ongoing repairs to the broken gas main in Penge Lane but had suspended work for Christmas.
Residents were evacuated to four centres overnight while SGN carried out a temporary repair. They were allowed to go home from 05:00.
'We'd like to apologise'
Ben Howard, from The London Borough of Bromley's transport and highways department, met SGN's supervisor on Christmas Eve and reported that SGN had made a temporary repair to the broken gas main in Penge Lane.
He said he had been informed that the readings were down and "the area was safe for over the Christmas period." Mr Howard said work was due to be completed by mid-January and had only been authorised until 29 January.
In a statement released earlier James Higgins, a spokesman for SGN said: "Penge Lane will remain closed at its junction with Queen Adelaide Road as we continue repairing the network.
"This is a particularly complex project involving specialist equipment and we are doing everything possible to minimise disruption for local residents.
"We'd like to apologise for any inconvenience caused while we carry out our essential work."
One resident, who did not wish to be named, said: "Huge amounts of escaping gas last night could have caused a catastrophic explosion had it ignited.
"The community should be assured that they have a plan in place to guarantee this won't happen again."
'Community spirit'
Mr Higgins said a temporary repair had been carried out but it was too early to tell what had caused the leak and investigations were ongoing.
A member of the public reported smelling gas shortly after 22:30 on Saturday and called the national gas emergency number, SGN said.
It was initially thought about 500 people had to leave their homes as a precaution but police later said it was fewer and that about 150 properties were affected.
Neighbourhood policing team @MPSBromley tweeted: "Huge Gas Leak Penge Lane / Queen Adelaide Road. Houses being evacuated. Please avoid this area."
A second tweet from the account at about 02:00 said: "Road closures remain in place in #Penge ... 4 reception centres housing evacuees. Community spirit pulling through. Updates to follow."
Sgt Lance Chenery tweeted: "On scene with @MPSBromley dealing with a serious gas leak in #Penge #SE20 large evacuation of residents."
Penge Lane remains closed at the junction with Queen Adelaide Road and gas engineers remain at the scene.