Two men badly injured in Dalston 'racing' car crash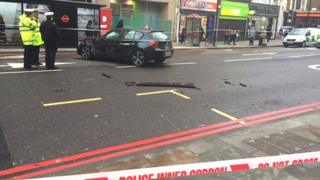 Two men were seriously injured after being hit by a car in Dalston, east London, police said.
The crash happened at about 11:00 GMT on Sunday on Balls Pond Road.
Eyewitness Khurran Shazad told the BBC: "Both cars were racing. He [one of the drivers] lost control and came onto the footpath. It was a very terrible scene... injured people and blood."
Three pedestrians were treated at the scene, two of which are in a "serious" condition in hospital, said the Met.
Police said the two were in a stable condition. Officers have arrested two men on suspicion of dangerous driving.