'Hoverboard' man who stole Lucozade crate spared jail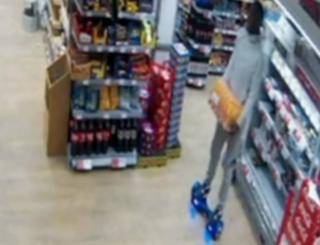 A teenager who used a "hoverboard" to enter a supermarket and steal a crate of Lucozade, has been spared jail.
Omaree Lindsay, 19, of Cecil Road, Croydon, rode into Co-Op in Streatham Road, Mitcham, on 6 September.
He appeared at Croydon Magistrates' Court on Tuesday and pleaded guilty to a number of offences.
He was sentenced to 200 hours of unpaid work for offences including theft, failing to comply with a court order and driving a vehicle on the pavement.
District Judge Adrian Turned also ordered Lindsay to pay £150 in costs.
The court order Lindsay had failed to comply with was an order to complete unpaid for work in the community issued on 28 of August for a driving offence.