London shoppers report almost being hit by falling metal Christmas decorations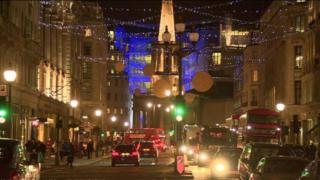 Some central London shoppers say they have almost been hit by falling overhead Christmas decorations.
The pointed 20cm long decorations have been part of the display above Regent Street.
Earlier, the police were called after a shopper reported being hit by one of the decorations.
The Crown Estate, which manages Regent Street, said the situation was under review with testing and reinforcement of the decorations.
Shopper Anna Morrell said: "Myself and my child were just walking across Regent Street and a metal diamond knife fell from the sky.
"I think it's incredibly dangerous. It will slice somebody if they're walking underneath that."
When police officers arrived they found the decorations were already being inspected by Crown Estate representatives.
People also took to Twitter to complain.
Parts of the installation had to be taken down during recent high winds.
A Crown Estate spokesperson said they were aware a number of diamonds had come loose in high winds.
A statement added: "We place the highest priority on health and safety and our specialist installation team are on-site and continuing to keep the situation under review, including undertaking testing and reinforcement of the decorations."