Wood Green police shooting: Firearms officer suspended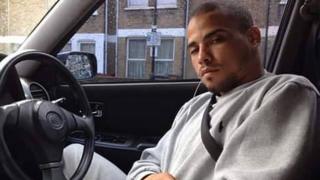 A Met Police firearms officer has been suspended after a man was shot dead during a police operation to prevent an alleged plot to free two criminals from a prison van.
Jermaine Baker, 28, was killed near Wood Green Crown Court in north London on Friday.
The Metropolitan Police has confirmed its decision to suspend the officer.
The Independent Police Complaints Commission (IPCC) has launched an investigation into the death.
The officer was suspended at the "earliest practical opportunity" after the Met agreed with the IPCC about the need for action, following the death of Mr Baker.
Met Deputy Assistant Commissioner Peter Terry said it was "vital" for the IPCC to quickly establish what happened that morning.
Mr Baker was shot on Friday morning as Erwin Amoyaw-Gyamfi, 29, and Erun Izzet, 32, were about to be taken to court in a custody van for sentencing.
Four men have since been charged with conspiracy to aid the escape of two prisoners.
Izzet and Amoyaw-Gyamfi, were sentenced, as planned, at Wood Green Crown Court after pleading guilty to offences including possessing a machine gun and possessing a self-loading pistol and bullets with intent to endanger life.
The court heard they were intercepted by police on their way to "kill, maim or wound" someone.
In relation to the officer's suspension, Mr Terry added: "Speculation and rumour will only serve to undermine that investigation and community confidence in the Met Police Service."
The force would continue to assist the IPCC in "any way possible" and was supporting all of the officers involved in Friday's operation, he said.
The Borough Commander for Haringey, Victor Olisa, would be speaking to the local community to listen to any concerns, Mr Terry added.