Crane operator dies after 20m high cardiac arrest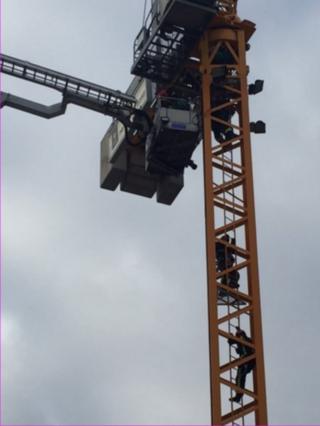 A crane operator has died after suffering a cardiac arrest in his cab 20m (66ft) above the ground on a construction site in Fulham, south-west London, emergency services have said.
Firefighters used an aerial hydraulic platform. They were seen scaling the crane.
A London Fire Brigade spokesman said the man was pronounced dead by London Ambulance Service (LAS).
It happened at about 10:30 GMT in New King's Road.
Bruce Milani who runs nearby BMG Scooters said he saw two paramedics and 10 firemen trying to work at the top of the crane to save the man.
He said: "It was quite an operation with the firemen climbing up and down the crane.
"Paramedics gave him CPR at the top of the crane. It was a tight, tight space."
A spokeswoman for LAS said: "We were called at 10:38 to reports of an unconscious person."
She added: "Every effort was made to resuscitate the patient at the scene, but, despite the best efforts of the crew, a man died."
A spokeswoman for developer London Square which is building apartments at the site confirmed he was working for a sub-contractor.
One local shopkeeper remarked that it took almost two hours to bring the man to the ground.
London Fire Brigade confirmed firefighters left the scene at 12:24 GMT.