Witness sought after attempted arson at Finsbury Park Mosque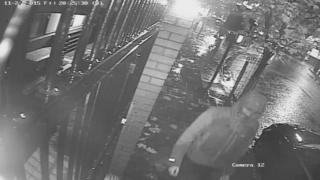 Police are looking for a man who might have seen an attempted arson attack, described as an Islamophobic hate crime, on a mosque in north London.
The attack was attempted on the Finsbury Park Mosque on 27 November at 20:25 GMT.
A man outside the building on St Thomas Road at the time may have "valuable information", police said.
He walked past another man who threw an ignited jerry can full of petrol inside a bag at the mosque, said the Met.
The Met said the suspect was wearing a white hooded jumper and baseball cap and fled the scene on a moped.
Detective constable Gavin Went asked the witness to come forward and speak to officers.
He added: "High visibility patrols have been stepped up in the area following this incident."