Dambuster's medal expected to fetch thousands at London auction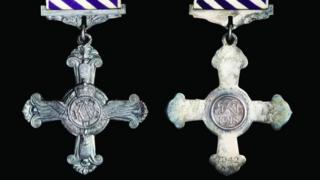 A Dambuster's medal is expected to fetch thousands at auction to raise money for a dam in Uganda.
It was given to a 21-year-old pilot who later flew one of the Lancaster bombers on the famous Second World War mission.
It is thought its auction could raise up to £40,000 for a project run by the charity WaterAid.
The auctioneers, Morton & Eden, described the lot as "undoubtedly" one of the most iconic Distinguished Flying Cross medals to be auctioned in years.
Flight Lieutenant John Vere "Hoppy" Hopgood received the Distinguished Flying Cross and Bar less than a year before he took off on the mission to destroy three dams in Nazi Germany, a mission from which he never returned.
The lot includes a letter from Hopgood's commander informing his mother of his death.
David Kirk from Morton & Eden said: "Flight Lieutenant Hopgood's family has agonized over the decision to part with the medal but feel that John Hopgood himself would approve.
"He was evidently a very thoughtful and idealistic young man who, we believe, would be glad to know that the proceeds from the sale of his medal will go towards the building of a much-needed sand dam to benefit thousands of people in Uganda."
Thomas Benn, of WaterAid, said the charity was "delighted" that Hopgood's family "will pay tribute to him through supporting our lifesaving work".
The medal is being sold by his family in an auction on 15 December at Morton & Eden Ltd, Nash House, St George Street, London.