Michael Winner's widow describes iron bar attack horror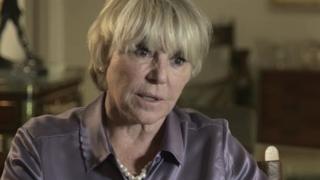 Michael Winner's widow has said her film director husband would be "turning in his grave" if he knew she had been beaten with an iron bar in her home.
In her first TV interview since the October raid, Geraldine Winner told the BBC's Crimewatch programme about the trauma and the terror she faced.
Mrs Winner, who is in her 70s, was beaten around the head, suffered a broken finger and was left in agony.
On Monday, Crimewatch will show CCTV of a woman detectives wish to identify.
Mrs Winner said she had been left with the injuries and fear, but no-one could take her memories of her husband away.
"My memories of Michael, everything I've done for Michael and with Michael, nobody can take that away and that's all really that matters."
In the attack, a man and a woman forced their way into Mrs Winner's home in Knightsbridge, central London.
They assaulted her and left with possessions after a raid lasting about three hours.
Mrs Winner said: "It's the trauma of what's happened to you. It stays with you."
She added: "My back was agony and my shoulder was agony. My right shoulder was just such agony. And I'd broken my finger. I saw my finger was broken. I'd seen that."
Mr and Mrs Winner met in the late 1950s and married in 2011. He died two years later from liver disease at the age of 77.
Winner made more than 30 films in his lifetime, including the blockbuster Death Wish series, and latterly reinvented himself as a restaurant critic.
Crimewatch will be broadcast on BBC One at 21:00 on Monday.