London 'hoverboard' bus crash teenager dies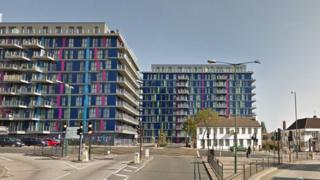 A teenager riding a "hoverboard" has died in a crash with a bus, police have said.
The 15-year-old was pronounced dead at the scene in Glacier Way, Alperton, west London, on Thursday night.
He had been riding a "self-balancing scooter" at the time of the crash, Scotland Yard said.
The boy has yet to be formally identified, and a post-mortem examination will be carried out in due course, police said.
More news on this and other stories from London
Eyewitness Jeffrey Mingle, from Edgware, north London, was crossing the road at the time.
He told BBC London: "I saw the guy on the hoverboard, I was just standing there next to him and then he fell into the road.
"He tried to get up but he wasn't quick enough and then he was hit by a bus, the 224. "
Writing on Twitter, Councillor James Denselow wrote: "Sad to hear about the death of a 15-year-old boy in Alperton last night who collided with a bus whilst riding a hoverboard."
Banned from the road
"Self-balancing scooters" are known by various names including "hoverboards" and "rideables"
Gyroscopes are used to counter-balance and control the speed of the wheels - with some models capable of travelling at up to 12 mph
They are banned from use on public pavements and roads in the UK
The Crown Prosecution Service has issued guidance stating they "are not legal for road use"
According to the Department for Transport, it is only legal to use them on private property with the owner's consent
The same applies to Segway scooters, with one Yorkshire man successfully prosecuted and fined £75 for riding one on the pavement