Charge over TJ Martin funeral laptop theft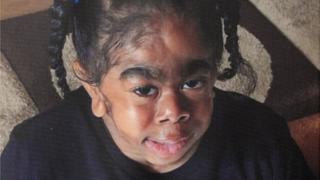 A man has been charged with burglary after a laptop was stolen from the funeral of a six-year-old boy.
The parents of TJ Martin, who had died after being born with a rare disease, appealed for witnesses after the theft that took place while they were burying their son.
The laptop was used to show pictures of TJ during the service.
It was stolen from Pentecostal City Mission Church in Willesden, north-west London, on 2 November.
TJ was born with Candle syndrome, a rare disorder characterised by inflammation and fever, and spent much of his life in hospital.
Scotland Yard said a man was arrested and charged with burglary on Saturday.
Franklyn Mathurin, 47, of no fixed address, appeared at Hendon Magistrates' Court on Monday.
He will appear in custody for a case management hearing on 14 December.