Vauxhall helicopter crash pilot said: 'All's fine' just before hitting crane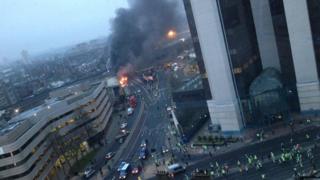 A pilot who died when his helicopter crashed said: "All's fine" just before hitting a crane, an inquest has heard.
Peter Barnes died when the helicopter struck St George Wharf Tower, Vauxhall, in January 2013.
Pedestrian Matthew Wood, 39, from Sutton, was also killed and 12 people on the ground were injured.
Mr Barnes, from Berkshire, was faced with poor visibility and freezing fog on the morning of the crash, Southwark Coroner's Court heard.
He had been flying from Redhill Aerodrome in Surrey to Elstree in Hertfordshire but was diverted to Battersea heliport.
The court heard from an air traffic controller, known only as Witness C, that there was nothing unusual about the request to divert Mr Barnes to Battersea.
Flying in "difficult circumstances"
Air traffic controllers were required to complete co-ordination with the heliport before the landing aircraft came within five miles.
The court heard the helicopter was almost within this limit at Vauxhall Bridge.
Witness C said Mr Barnes had indicated the visibility in his area was good before he called Battersea.
It took Battersea Heliport longer than usual to answer the phone and the controller "appeared to be under some pressure" he told the court.
Previous witnesses have suggested the clearance granted to Mr Barnes to fly to a "holding area" between Vauxhall and London Bridges was not clarified.
The controller did not use the route's specific name and the pilot did not read the instructions back.
Witness C said he did not ask the pilot to read back the instructions as it could have been "potentially distracting" to a pilot flying in "difficult circumstances".
Mr Barnes did not take the most direct route back to the holding area, but Witness C said it would not have been right to "admonish the pilot for any marginal transgression, given the circumstances".
The inquest continues.