'Fat shaming' cards handed to London Tube passengers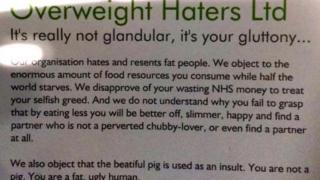 Commuters on the London Underground are being handed cards telling them they are a "fat, ugly human" by a group that claims to "hate and resent fat people".
NHS worker Kara Florish posted a message on social media after being handed a card while travelling on the Tube on Saturday.
She described the card, which berates overweight people for "wasting NHS money" as "hateful and cowardly".
British Transport Police said they had been made aware of the campaign.
For more updates on this and other London stories visit BBC Local Live
The force has also had an incident reported in which a person was given a card.
The card says it is from a group called Overweight Haters Ltd.
Writing on Facebook, Ms Florish said she was "smaller than the national average and not exactly obese", and was "not upset" by the card, but worried it could upset people struggling with confidence and eating disorders.
Sean Thomas Knox posted on Twitter that he saw a woman being handed a printed card reading "you're fat" at Oxford Circus.
He said: "Her stunned, desolate reaction was very real. Then tears."
Steve Burton, of Transport for London, said this "sad and unpleasant" form of anti-social behaviour "would not be tolerated", and urged any people affected to report it to police or a station officer.