East India Dock Road body: Murder suspect held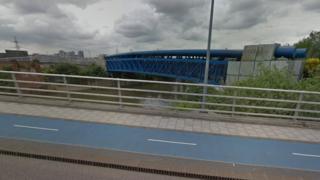 A 24-year-old man has been arrested on suspicion of murder after a body washed up on a river shore in east London.
Officers found the body of a 21-year-old man on the shore off East India Dock Road, near the flyover at 07:25 GMT on Wednesday.
The victim was found with head injuries. He has not been named but police are attempting to trace his next of kin.
The 24-year-old suspect was arrested on Saturday and remains in police custody.